※ Features


Features of QL Temperature Sensor Constant Current Strips:
● Constant current version: with stable current, suitable for high quality requirements project.
● DC12V/DC24V input: Can work with any DC12V/DC24V PWM control system.
● Can work with unstable power supply and without damage.
● with temperature Sensor: Can lower the current to protect itself when the temperature is too high.
● Brightness uniform: With same brightness from the first end to the last end for around 10m.
● DC24V version: can work with DC20V to DC30V Input
● DC 12V version: can work with DC10V to DC15V Input
※ Parameters for CC Version

Model No.
LED
Type
LED
Qty
(pcs)
Work Voltage
Power
PCB
Size
Water
proof
CRI
Color
λ(Nm)
/(CT:K)
Lumen
(lm/m)
150lm/W, DC24V Input Temperature Sensor Constant Current Version
QL-F5630X64-WW-24C-HE
5630
128
DC24V
22W/m
12mm
IP20
IP67
≥8

0

Warm White
2700-2900K
2800-3000
QL-F5630X64-W-24C-HE
3000-3200K
3000-3100
QL-F5630X64-N-24C-HE
Nature White
4000-4500K
3100-3200
QL-F5630X64-P-24C-HE
Pure White
6000-6500K
3200-3300
QL-F5630X32-WW-24C-HE
5630
64
DC24V
11.5W/m
10mm
IP20
IP67
≥8

0

Warm White
2700-2900K
1500-1600
QL-F5630X32-W-24C-HE
3000-3200K
1600-1650
QL-F5630X32-N-24C-HE
Nature White
4000-4500K
1650-1700
QL-F5630X32-P-24C-HE
Pure White
6000-6500K
1700-1750
QL-F5630X16-WW-24C-HE
5630
32
DC24V
5.7W/m
10mm
IP20
IP67
≥8

0

Warm White
2700-2900K
720-780
QL-F5630X16-W-24C-HE
3000-3200K
780-810
QL-F5630X16-N-24C-HE
Nature White
4000-4500K
810-840
QL-F5630X16-P-24C-HE
Pure White
6000-6500K
840-860
Remark: X stands for waterproof version, A for IP20 non-waterproof version, C for IP67 version with silicone tube
※ Drawings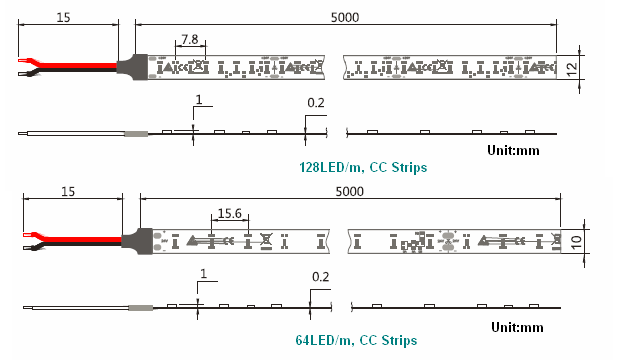 ※ Connections



※ Accessories



※ Different Waterproof Version



※ Packing